Vagrus - The Riven Realms
Character Artwork - Elemental Shaman
---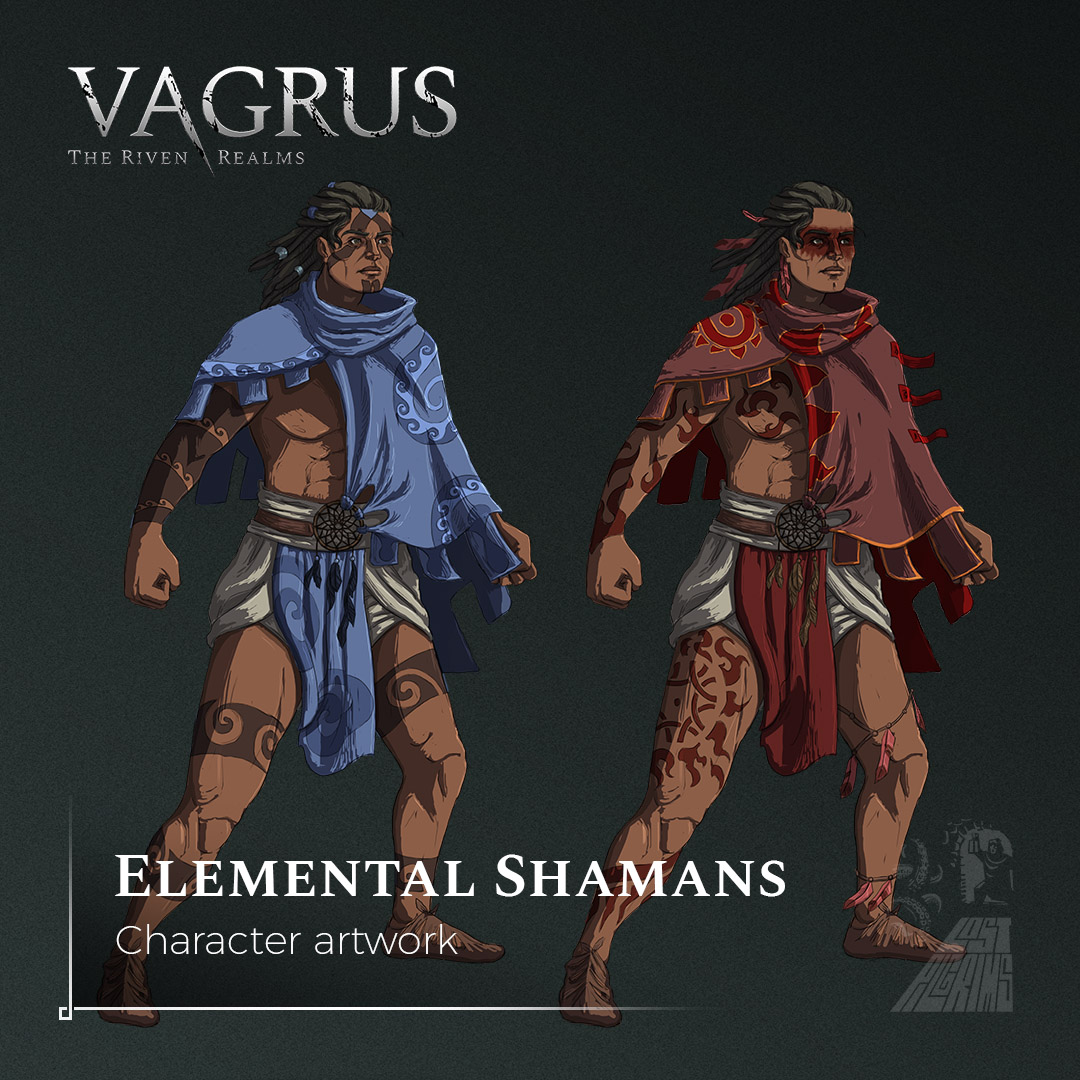 The next character to be revealed is another enemy, although this one can often be encountered as a temporary ally as well: the elemental shaman of the Sadirar people.
The ancestors of the Sadirar survived the Calamity in underground vaults and left those several generations after the catastrophe. Upon going back to the surface, they found endless sand dunes, blinding sunlight, and searing temperatures in place of their dense forests and hills. In their hour of despair, however, the Great Spirits spoke to them and guided them to oases in the cruel desert. These spirits have been worshiped by the Sadirar ever since. Each spirit is the embodiment of an element: Fire, Water, Earth, and Air. Those that communicate with the Great Spirits and in turn command these elements are the shamans. The Sadirar are now a nomadic people who thrive in the deserts called the Searing Plains. They rose above cruel barbarism through spirit worship but are far from docile.
The shamans can belong to any of the four tribes and fiercely protect their people and their territories if need be. The above examples are of the Fire and Water tribes. Fire shamans are tough opponents in combat, summoning flames to burn their enemies; water shamans have the ability of magical healing, something that is almost completely extinct on the dark continent. Both are in support roles in combat encounters.

Our crowdfunding campaign is LIVE. Get instant access to the Alpha build now!

Wanna get the game as early as possible with even more content? Please share our pages and posts with your friends through your favorite social media channel(s). Appreciate it!
Fig.co | Steam Store | Website | Youtube Twitter | Facebook | Instagram | Patreon | Discord